Your birth story is simply too incredible to be tucked away on a computer.
Connect With Your Birth Story
We believe your birth story is best captured pen to paper. Journaling is incredibly powerful and allows us to deeply connect with and process our experiences. Get cozy with The Birth Journal and relax into the birth story space of your mind. Then let your words flow onto the pages in your handwriting, that incredible magic of handwriting.
It's never too late to write your birth story.
Supportive Writing Guide
The Birth Journal includes a supportive, practical birth story writing guide. And it's just that... a guide. You won't find fill-in-the-blanks or a birth story writing formula. You will find inspiration and encouragement to do your thing and write any way you wish, along with practical writing tips. You've got the story and the guide provides inspiration (and love... lots of new mama love).
Heirloom in the Making
The Birth Journal is first for you, space for you to process your birth experience. Your eyes may be the only ones to ever see the written pages. Or you may decide to share it with your babies so they can touch the paper your hands grazed, trace your handwriting with their fingers, and read about how they came into the world. When my babies are older I plan to share my birth stories with them. I will hand them The Birth Journal, probably cry, and let them read all about the moments and emotions surrounding their birth.
"The Birth Journal is a beautiful, timeless way to document your birth story. I love that mamas can process their births through journaling in The Birth Journal, and it also becomes an heirloom gift to pass on to their children."
"It's seriously the PERFECT gift! Beautiful, meaningful, and it's a great price point."
"Some stories call for the real thing: good old fashioned handwriting. The Birth Journal is a one-of-a-kind place to really write your birth story. That I have something to pass on to my children fills me with so much warmth!"
"When I saw The Birth Journal, beautifully bound and embossed, I knew it would be the perfect gift for my new mom friends. Everyone I have gifted the journal to has said how special it is."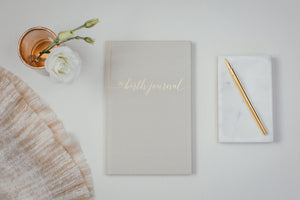 The Birth Journal® - Guided Keepsake Journal for your Birth Story - Original Canvas + Gold
Sale price Price $40.00 Regular price
Happenings Blog
For more birth story goodness, what we're workin' on, and the sweet happenings of our lives head on over here...
yes, please