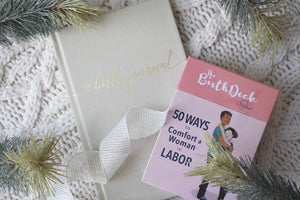 The Birth Journal® and The Birth Deck® Gift Bundle
Sale price Price $70.00 Regular price
This gift bundle is offered for a limited time and is perfect for expecting mamas. The perfect pregnancy and baby shower gift, it includes The Birth Journal®, our signature guided journal for mamas to write their birth story, and The Birth Deck® by Glow®, a deck of cards with 50 easy ways to support a mama in labor. Gift this meaningful, practical, unique gift to yourself or your pregnant friends.
The Birth Journal® is a guided keepsake journal for mamas to connect with the power of their birth story through the magic of their handwriting. The Birth Journal includes a supportive, practical birth story writing guide with inspiration for how to write your birth story, including topics such as the power of birth stories, how to get started, areas of birth to consider including in your story, and journaling after birth trauma. The guide provides inspiration and support, while encouraging mamas to write only what is meaningful to them. The Birth Journal is a meaningful gift mamas can pass down to their grown babies, so they can read about the day they were born written in their mama's distinct handwriting.
The Birth Deck® is a simple, powerful childbirth education tool and the perfect pregnancy gift. This giant deck of cards teaches 50 easy ways to support a woman in labor through massage, hypnosis, affirmations, visualizations, labor positions and other simple tips. No studying, no classes, just clear directions & illustrations. The Birth Deck shows you how to use these tools effectively, one card at a time.